'Talent Incubator: Digital Education for Women and IT Professionals in Moldova' - the project that supports the long-term ICT market development
22 December 2022, 17:30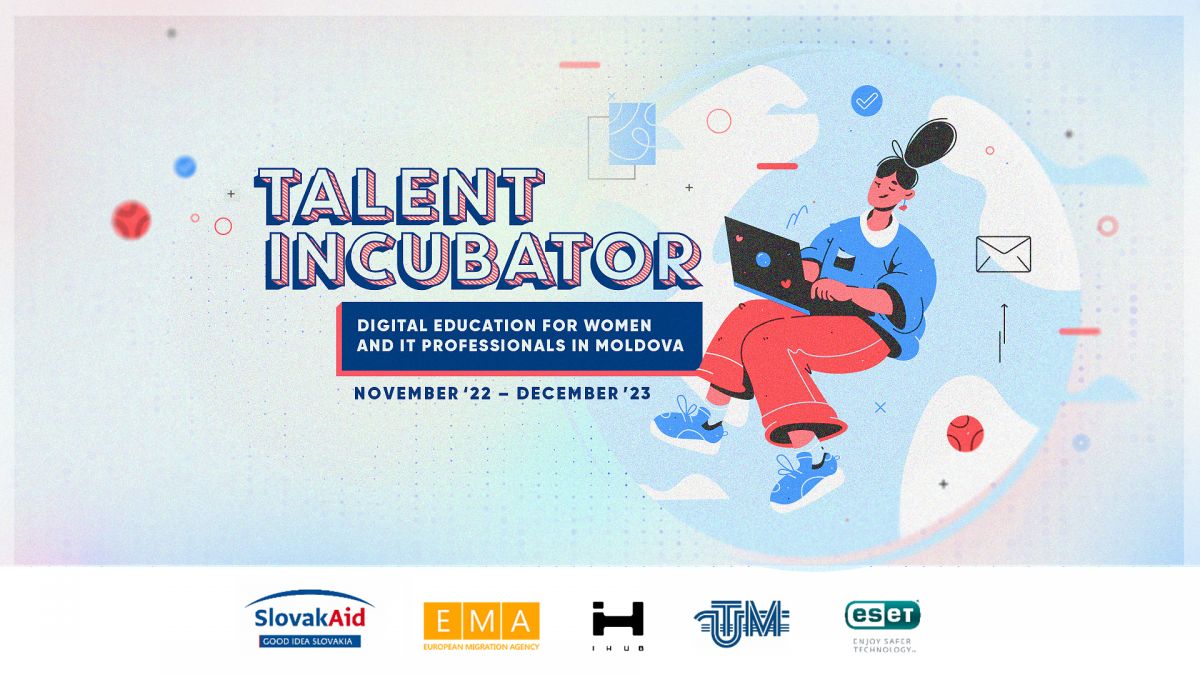 Girls and women from Chisinau, Balti, and Comrat will have the opportunity to learn about ICT, and obtain the necessary skills to work in the field. iHUB launched the Talent Incubator project that aims to strengthen the public-private relationships and share the Slovak experience in 3 regions - Chisinau, Gagauzia, and Balti to systematically improve the socio-economic status of students, women and the general public. The project was launched in partnership with EMA, the Technical University of Moldova, and ESET, with the financial support of SlovakAid.
Through special initiatives, the project will give women access to education and better-paid jobs, they will be encouraged to develop and gain more skills in the field of entrepreneurship. Also, the project aims to provide the necessary support for the professional growth of 200 women, who, as a result, will be able to get jobs in companies in the digital field or develop their own businesses.
Through this project the beneficiaries will have access to the following:
educational programmes in multiple directions, such as:
Social Media and Management / Copywriting
Software testing / programming
Graphic / web design
hours of mentoring and support in the learning process
possibility to participate in community events, organized exclusively for girls and women working in fields such as marketing, design, software, testing, IT, and programming
financial support to selected local (start-up or long-established) women-led micro-enterprises
access to equipped women hubs in 3 regions: Chisinau, Balti, and Comrat
The call for applications to join the courses will be announced in January 2023 on www.ihub.md. Stay tuned!
"Eva Balazovicova, Coordinator, EMA:
In EMA, we strongly support investment in digital skills – for young people and for women, especially – because it is proven to bring better perspectives and better quality of life. This project enables us to join forces with partners from private sector, namely company ESET, and our dedicated Moldovan partners, Seed Forum/IHUB and Moldovan Technical University, to deliver that."
"Irina Grișca, manager of IHUB Chisinau:
Through this initiative, we want girls and women from Chisinau, Comrat, and Balti regions to get more involved in the IT field and achieve the personal, professional and economic development they need. In the coming period, we will offer girls and women the opportunity to attend tech courses, mentoring hours and support in the learning process, and participation in IT programs and events."
The project comprehensively addresses the development of ICT capacities in Moldova, the causes of gender inequalities, links Chisinau with the rural areas and contributes to creating more jobs and opportunities for girls and women.
This project 'Talent Incubator: Digital Education for Women and IT Professionals in Moldova', implemented from 10.2022 – 12.2023, is carried out from the funds of the official development aid of the Slovak Republic.